Paul Pickett – 
Managing Director
I have been in the mechanical services industry since I left school nearly 30 years ago.  I joined the PFI team as a sub- contractor some 10 years ago, and about 8 years ago I joined the company on a permanent basis when I became Labour Manager.  I became Contracts Director a few years ago and this was a very proud moment in my career.  I oversee staffing, look after sites and run projects throughout the uk.  I enjoy working alongside Steve and he has taught me valuable skills about running a business.  We are still a relatively small company, but one of the advantages of that is that we are a close-knit team and there is a real supportive, family atmosphere.    I try to spend most of my free time outdoors, I love cycling be it on a road or trying to stay on the bike as I roll down the side of a mountain!  I also like to get away camping with my family as often as I can…fortunately they love the outdoors nearly as much as me.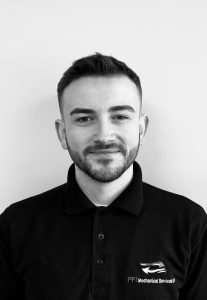 Ross Parkinson – Project Manager
I joined PFI in 2017, and have loved every second! I'm enjoying learning the trade from the ground up and everyone is friendly and willing to take the time out of their day to help and teach me. I am looking forward to progressing down a rewarding career path and I believe PFI are pushing me towards that. Within my life outside of work, I play football as much as I can, along with other sports. As well as enjoying time with my family and friends.
Lee Fowler – Estimator
I joined PFI in 2014.  I'd known about the company for some time and I was really looking forward to becoming part of the team.  My job varies on a daily basis due to the nature of our projects, but that means no two days are the same and there are always new challenges to look forward to.  My duties are mainly logistical, making sure our engineers on site have the correct materials when they need them.   In my leisure time I play football for my local club and enjoy the occasional round of golf.  When the British weather is at it's worst though, I'm happiest with a nice wine and a good film!
Lindsay Crossley – Accounts Manager
I came to PFI 8 years ago.  I was quite nervous initially because I had been with my previous employer for 18 years and I knew my job inside out!   I needn't have worried though, at PFI I was instantly put at ease and have not looked back since! I started out as an Accounts Assistant and have progressed to Accounts Manager.   I have learned a lot about the industry and I am still learning new things every day.  New challenges pop up all the time!   The team we have here are great and it's great feeling part of it.  I like spending any spare time I have with my two girls and love taking off in our caravan whenever I get chance.